BioBos IBR marker live lyophilisate and solvent for suspension for cattle
Homepage News News in assortment BioBos IBR marker live lyophilisate and solvent for suspension for cattle
19.1.2016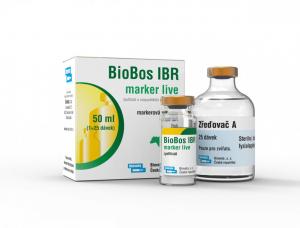 A vaccine for immunisation of cattle to reduce the intensity and duration of the clinical signs of infection with BHV-1 (IBR) and to reduce field virus excretion.
SIGNS OF INFECTION WITH BHV-1 (IBR) AND TO REDUCE FIELD VIRUS EXCRETION.
VACCINATION IS POSSIBLE FROM TWO WEEKS OF AGE.
ONE APPLICATION AT THREE MONTHS OF AGE PROVIDES PROTECTION FOR SIX MONTHS.
THE WHOLE HERD, INCLUDING PREGNANT ANIMALS CAN BE VACCINATED.
TWO METHODS OF ADMINISTRATION – INTRAMUSCULAR AND INTRANASAL.
AVAILABLE IN PRACTICAL PACKAGE SIZES OF 1 X 25 DOSES AND 5 X 5 DOSES.
More here.