BioBos Respi 2 intranasal – new vaccine against viral infections in calves
Homepage News News in assortment BioBos Respi 2 intranasal – new vaccine against viral infections in calves
21.5.2015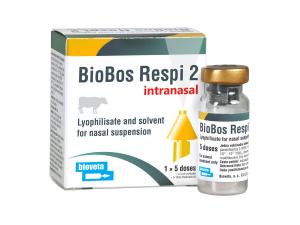 BioBos Respi 2 intranasal – new vaccine against viral infections in calves
CONTENT OF ACTIVE AND OTHER SUBSTANCES
One vaccination dose (2 ml) contains:
Freeze-dried substance:
Active substances:
Modified live bovine parainfluenza 3 virus (PI3V), Bio 23/A strain 105,0 - 107,5 TCID50
Modified live bovine respiratory syncytial virus (BRSV), Bio 24/A strain 104,0 - 106,0TCID50
TCID50 – 50% tissue culture infectious dose
Solvent:
Diluent A (sterile, phosphate-buffered saline) 2 ml
INDICATIONS
For active immunization of calves against BRSV and PI3V from 10 days of age, to reduce the amount and duration of excretion of both viruses.
The onset of immunity was proved 10 days after a single vaccination.
The duration of immunity after a single dose is 12 weeks.
Immunity was proved by vaccination of serologically negative animals.
CONTRAINDICATIONS
None.
ADVERSE EFFECTS
No adverse effects have been observed in the course of preclinical studies.
Repeated exposure to BRSV may cause hypersensitive reaction in isolated cases.
TARGET ANIMAL SPECIES
Cattle
DOSAGE FOR EACH SPECIES, ROUTE(S) AND METHOD OF ADMINISTRATION
Dosage:
2 ml of diluted vaccine per animal.
Method of administration:
Intranasal administration.
Vaccination schedule:
Basic vaccination:
Administer one dose (2 ml) of the diluted vaccine intranasally to calves from 10 days of age using an intranasal applicator. Using a new applicator for each animal is recommended to prevent the transmission of infection.
ADVICE ON CORRECT ADMINISTRATION
Dilute the vaccine by aseptic adding the solvent provided (Diluent A) into the vial containing the lyophilized component. Mix well.
Draw the required diluted vaccine volume into the syringe with a needle from the vial, then replace the needle by an applicator and apply the vaccine. The applicator is used to apply the required vaccine volume in the form of aerosol from the syringe into the nostrils of the vaccinated calf.
WITHDRAWAL PERIOD
No withdrawal periods.
SPECIAL PRECAUTIONS FOR STORAGE
Store and transport refrigerated (2 °C – 8 °C).
Do not freeze.
Protect from direct sunlight.
Store diluted vaccine at temperatures below 25 °C.
Shelf life of the veterinary medicinal product (lyophilisate) packaged for sale: 2 years.
Shelf life of solvent (Diluent A) packaged for sale: 4 years.
Shelf life after dilution according to directions: 2 hours.
SPECIAL PRECAUTIONS
Special precautions related to each target species:
Efficacy has not been established in the presence of maternal antibodies.
Special precautions for use in animals:
Only healthy animals should be vaccinated.
Vaccinated calves may excrete BRSV and PI3V vaccination strains for up to 6 days after vaccination.
Therefore, spreading the vaccination virus from vaccinated to unvaccinated calves cannot be excluded, but without inducing clinical symptoms of the disease. In laboratory studies, excretion of BRSV and PI3V was observed within 6 days vaccination with a after single dose containing the maximum amount of the virus. Animals should be vaccinated at least 10 days before the critical periods of stress or high risk of infection such as regrouping or transport of animals, or early in autumn. Vaccinating all calves in the breed is recommended to achieve optimum results.
Special precautions to be taken by the person administering the veterinary medicinal product to animals:
In case of accidental self-injection, seek medical advice immediately and show the package leaflet or the label to the physician.
Use during pregnancy and lactation
Do not use during pregnancy and lactation.
Interaction with other medicinal products and other forms of interaction:
No information is available on the safety and efficacy of this vaccine when used with any other veterinary medicinal product. A decision to use this vaccine before or after any other veterinary medicinal product therefore needs to be decided on a case by case basis.
Incompatibilities:
In the absence of compatibility studies, this veterinary medicinal product must not be mixed with other veterinary medicinal products (except for Diluent A supplied for use with this vaccine).
SPECIAL PRECAUTIONS FOR THE DISPOSAL OF UNUSED PRODUCT OR WASTE MATERIALS, IF ANY
Dispose of waste material by boiling, incineration or immersion in an appropriate disinfectant approved for use by the competent authority in accordance with applicable legislation.
ADDITIONAL INFORMATION
For animal treatment only.
To be supplied only on veterinary prescription.
Package sizes:
1 x 5 doses (1x3 ml lyophilised vaccine + 1x10 ml Diluent A)
5 x 5 doses (5x3 ml lyophilised vaccine + 5x10 ml Diluent A)
The intranasal applicator is not provided in the package. Applicators are distributed with the vaccine.
Not all pack sizes may be marketed.