Biocan Novel
Homepage News News in assortment Biocan Novel
17.4.2016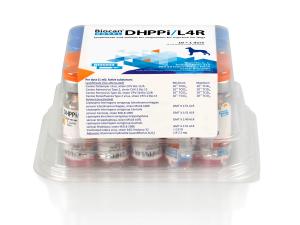 Three-year immunity has been registered!
VACCINES OF THE FUTURE NOW WITH THREE-YEAR IMMUNITY
Four reasons why to use the new Biocan NOVEL vaccine with three-year immunity
Minimal dog's body burden by annual antigen administration into the body
Each administration of a foreign substance, including vaccination antigens, is a burden on the organism. By eliminating the need of annual administration of D, H, P and R antigens, the burden on the organism is considerably reduced.
Minimal post-vaccination reactions due to the antigen administration into the dog's body
The three-year vaccination schedule can also be used for dogs sensitive to vaccination. The application of D, H, P and R antigens every three years minimizes the risk of adverse reactions, including late adverse reactions, which are often overlooked and not associated with vaccination by veterinarians and owners.
Minimal immune-mediated diseases
Annual polyvalent revaccination may trigger immune-mediated diseases. The three-year vaccination schedule can also be used for dogs after autoimmune disease, or with a history of conditioned immune response.
Even when the three-year immunity in the Biocan NOVEL vaccination schedule is used you do not lose your patient's annual visit
It is essential that your client should visit your office with their dog every year. Even with three-year vaccination schedules, healthy dogs should have the Pi/L4 component re-vaccinated annually.
THREE-YEAR IMMUNITY
Three-year duration of immunity to CPV, CDV, CAV and rabies has been verified by challenge tests.
CURRENT CPV STRAIN - 2b
The vaccines contain current, highly immunogenic CPV - 2b.
Vaccines containing this strain protect against CPV - 2a, CPV - 2b and CPV - 2c strains.
FOUR LEPTOSPIRA SEROGROUPS
The vaccines contain four highly pathogenic and most common serogroups of Leptospira: L. canicola, L. icterohaemorrhagiae, L. grippotyphosa and L. bratislava.
Protection against leptospirosis occurs as early as four weeks following basic vaccination.
HIGHLY IMMUNOGENIC CANINE DISTEMPER STRAIN
The CDV strain is a highly immunogenic Onderstepoort-related strain, which is globally the most widely used canine distemper strain providing excellent antibody response.
EFFECTIVE RABIES VIRUS
Protection against rabies occurs two weeks after a single application made at an age over twelve weeks.
The combined rabies vaccine can be used in puppies from the age of 6 weeks. Revaccination is necessary in this case.
ONSET OF IMMUNITY
The onset of immunity to CDV, CPV, CAV-1 and CAV-2 in seronegative individuals has been confirmed as early as three weeks following single application.
NO SIDE REACTIONS
Leptospira are repeatedly filtered and purified to reach low concentrations of the resulting proteins used for Leptospira cultivation. These measures ensure that side reactions are minimal.
BEST PRICE
among premium dog vaccines.
More.