Biodexin ear lotion, solution
Homepage News News in assortment Biodexin ear lotion, solution
9.3.2015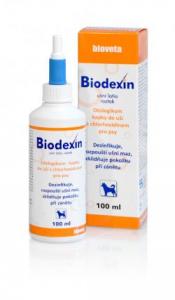 Otologic - ear drops for dogs with chlorhexidine
Excellent release cerumen and inflammatory secretions
Disinfects
soothes skin inflammation
Excellent bactericidal effect
Effective against yeasts also due to content of tea tree oil (tea tree oil) and chlorhexidine
I in addition to antibiotic therapy
The product is intended for dogs
Packaging 100 ml
100 ml of the product contains:
Chlorhexidine digluconate 0.1% Tea Tree oil 1% dexpanthenol 2.5% propylene glycol Cremophor RH 40, phenoxyethanol, ethylhexylglycerol, alpha-tocopherol, 99% acetic acid, sodium acetate trihydrate, and purified water.

Biodexin ear lotion containing a solution of 0.1% chlorhexidine, ie 1000 mg of the active substance in 1 liter of product. This concentration is sufficient to inhibit the growth of many bacterial species. Depending on the concentration of the bacteriostatic to bactericidal effect, is effective against vegetative forms of Gram-positive and Gram-negative bacteria. Is also expressed activity against certain types of viruses and acts on yeast and mold.

Tea Tree Essential oils (Tea Tree Oil) is effective antiseptic on a relatively wide spectrum of microorganisms. The product is used as an antifungal with activity against Malassezia pachydermatis and other yeasts, which are frequently responsible for ear inflammation in dogs.

Dexpanthenol one of the substances with healing and anti effect, moisturizes damaged skin.

Contained propylene glycol serves as cerumenolytikum and moisturizing ingredient. Dissolving cerumen helps Cremophor RH 40th The product contains a preservative Euxyl PE 9010 containing phenoxyethanol and ethylhexylglycerolu to ensure microbiological safety.
Pharmaceutical form:
Ear solution
Target species:
Dog
Characteristics of the product:
The product is to be injected into the external ear canal of dogs.
Dosage:
Apply 5-8 drops in the dog's ears. Fan horn and let the dog shake product. Any unused product and earwax can wipe with cotton wool. The procedure can be repeated 2 times daily.
Special warnings:
Do not use in the event that there is a possibility of impaired eardrum. The product should not come into contact with the eye mucosa.
In case of contact with eyes, rinse your eyes with clean water and if irritation persists, seek the advice of a veterinarian. If an animal develops hypersensitivity to any component of the product, stop using and seek veterinarian. Avoid ingestion animal.
Storage:
Store in original container. Do not store above 25 ° C. Protect from light and freezing.
Packing:
100 ml