Biodexin shampoo
Homepage News News in assortment Biodexin shampoo
9.3.2015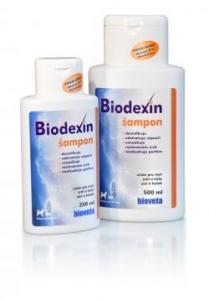 Product is intended for washing hair and skin of dogs and cats, where the antiseptic, cleaning and deodorant effect is neede
Highly concentrated, containing 4% chlorhexidine
Cleans hair, removes odors
Disinfects
Facilitates combing hair
Does not contain perfume
Designed for dogs and cats
Package: 250 ml, 500 ml
100 ml of the medicinal product contains:
Chlorhexidine digluconate solution, decyl glucoside, cocoamidopropyl betaine, sodium chloride, cocamine oxide, PEG-7 glyceryl cocoate, laureth-4, PEG/PPG-120/10 trimethylolpropane trioleate, laureth-2, glycerol 85%, benzyl alcohol, methylchloroisothiazolinone, methylisothiazolinone, acetic acid 99%, Briliant Blue FCF, purified water.
Target species:
Dog, cat.
Indications:
The medicinal product contains solution of the antiseptic substance chlorhexidine in the shampoo base. Thanks to a strong antiseptic effect the medicinal product can be used, where the washing, antiseptic and deodorant effect has to be combined.
Intended for washing hair and skin of dogs and cats, where the antiseptic, cleaning and deodorant effect is needed.
Method of administration:
Apply small amount of the medicinal product uniformly on the wet animal hair, massage until foam is created. Let act for 5 - 10 minutes, then flush the animal by water thoroughly. Washing can be repeated in several days, if necessary. When handling the animal, prevent eye contact with the medicinal product.
In case of accidental eye contact, flush eyes with clean water flow.
Package:
250 ml, 500 ml