BioEquin FH, emulsion for injection for horses
Homepage News News in assortment BioEquin FH, emulsion for injection for horses
21.5.2015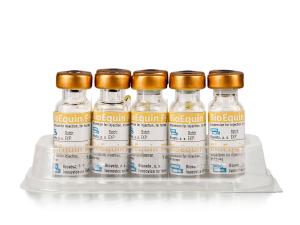 Bioveta, a. s. offers an innovated product against infection caused by equine herpesviruses, and for active immunization against abortions in pregnant mares
Contains new influenza virus strains in line with OIE recommendations
Excellent tolerance and a low application dose 1 ml for intramuscular administration
Vaccination schedule complies with the requirements for influenza and EHV-1 protection
Vaccine proven for safe application to pregnant mares
Vaccine intended to prevent abortions and relieve the symptoms of respiratory infection caused by influenza viruses and EHV-1 in foals, yearlings and young horses
Contains current abortogenic EHV-1 strain isolated in the Czech Republic, providing cross immunity also to EHV-4
| | | |
| --- | --- | --- |
| Antigen | Minimum Content | Maximum Content |
| Bio 71: A/Equi 2/Morava 95 | 320 HAU | 640 HAU |
| Bio 80: A/Equi 2/Brno 08 | 320 HAU | 640 HAU |
| Bio 82: EHV-1 | 7,9 log10 TKID50 | 8.6 log10 TKID50 |
The BioEquin FH vaccine contains new influenza virus strains in line with OIE recommendations, which, in case of prior application of vaccines with antigens of other influenza strains, expands protection against influenza virus infection.
If changing the vaccination scheme in an adult horse, BioEquin FH may be applied after 3 months of prior Fluequine T or Fluequine vaccination.
For tetanus protection using Fluequin T vaccine is recommended at an interval of three months before or after BioEquin FH application.
When changing from another EHV-1 vaccine type, perform regular basic vaccination and revaccination.
CONTENT OF ACTIVE AND OTHER SUBSTANCES
One vaccination dose (1 ml) contains:
Active substances:
Herpesvirus equorum inactivatum (EHV-1) Min. 2.1 log10 VNI1
1 Virus neutralization index in hamster serum
Adjuvant:
Oil adjuvant (Montanide ISA 35 VG)m0.25 ml
Excipients:
Thiomersal 0.1 mg
The vaccine is a creamy white, yellowish or light pink oily liquid with easily shakeable sediment.
INDICATIONS
For active immunization of horses to reduce the occurrence of respiratory infection and clinical signs caused by equine herpesvirus (EHV-1) and to reduce the occurrence of abortions in pregnant mares caused by equine herpesvirus (EHV-1) infection.
Onset of active immunity: 14 days after basic vaccination
Duration of active immunity: 6 months after revaccination
CONTRAINDICATIONS
None.
ADVERSE EFFECTS
Temporary temperature increase can be observed after vaccination. Sporadic anaphylactic reactions may occur. Symptomatic treatment should be provided in such a case.
If any serious adverse effects or other reactions not specified in this package leaflet are observed, please report them to your veterinary surgeon.
TARGET ANIMAL SPECIES
Horses.
DOSAGE FOR EACH SPECIES, ROUTE(S) AND METHOD OF ADMINISTRATION
Vaccination dose – 1 ml.
Apply the vaccine deep intramuscularly.
Vaccination schedule – basic vaccination:
First vaccination at the age of six months, second vaccination 4 weeks after.
Revaccination:
Apply the first revaccination (third dose) 3 months after the basic vaccination, and further revaccinations every 6 months.
Vaccination of pregnant mares:
To reduce the incidence of abortions caused by equine herpesvirus infection, apply 1 dose of the vaccine is administered to pregnant mares in the second month after mating and then in the 5th or 6th month and in the 9th month of pregnancy.
ADVICE ON CORRECT ADMINISTRATION
Bring the vial content to 15 – 25 °C and shake thoroughly before use.
WITHDRAWAL PERIOD
No withdrawal periods.
SPECIAL PRECAUTIONS FOR STORAGE
Keep out of the reach of children.
Store in a refrigerator (2 °C – 8 °C).
Protect from light.
Store in a dry place.
Shelf life of the veterinary medicinal product as packaged for sale: 18 months.
Shelf life after first opening of the multi-dose container: 10 hours.
Do not use after the expiry date stated on the label.
SPECIAL PRECAUTIONS
Only healthy animals should be vaccinated.
In case of accidental self-injection, seek medical advice immediately and show the package leaflet or the label to the physician.
This product contains oil adjuvant. Accidental injection/self injection may result in severe pain and swelling, particularly if injected into a joint or finger, and in rare cases could result in the loss of the affected finger if prompt medical attention is not given.
If you are accidentally injected with this product, seek prompt medical advice even if only a very small amount is injected and take the package leaflet with you.
If pain persists for more than 12 hours after medical examination, seek medical advice again.
Can be used during pregnancy.
The safety of the veterinary medicinal product has not been established during lactation.
ADDITIONAL INFORMATION
No information is available on the safety and efficacy of this vaccine when used with any other veterinary medicinal product. A decision to use this vaccine before or after any other veterinary medicinal product therefore needs to be decided on a case by case basis.
For animal treatment only.
To be supplied only on veterinary prescription.
For use by veterinary practitioners only.
Package sizes:
2 x 1 dose, 5 x 1 dose, 10 x 1 dose
1 x 5 doses, 10 x 5 doses
Not all pack sizes may be marketed.