DEXIVET 0,5 mg/ml solution for injection
Homepage News News in assortment DEXIVET 0,5 mg/ml solution for injection
8.8.2023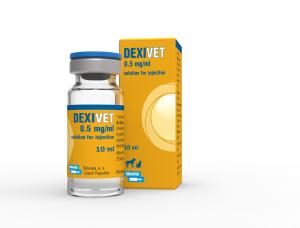 Dexmedetomidine hydrochloridum 0,5 mg/ml
Indispensable for perfect anaesthesia in dogs and cats.
Dexmedetomidine contained in Dexivet solution for injection is an alpha-agonist that produces varying degrees of sedation, muscle relaxation and analgesia.
Facilitating animal handling
Diagnostic procedures such as radiological examination, catheter insertion or soft tissue biopsy
Short-term surgical procedures
Part of the premedication of general anaesthesia, which very significantly reduces the dose of anaesthetic
The dose for intramuscular and intravenous administration is the same - 1-10 µg/kg.
The duration of sedation and analgesia is from one to three hours depending on the method of administration.
Pack size 10 ml