MELOXICAM Bioveta 5 mg/ml solution for injection for dogs and cats
Homepage News News in assortment MELOXICAM Bioveta 5 mg/ml solution for injection for dogs and cats
10.4.2019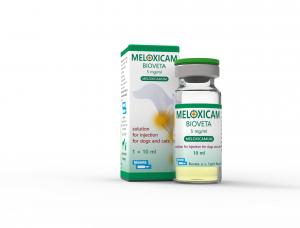 Meloxicam in injectable form with rapid onset of analgesic and anti-inflammatory effects.
Choice for dogs and cats with reduced tolerance of meloxicam intake in the form of syrup.
Relief of postoperative pain, especially after orthopedic, gynecological, abdominal and other surgeries.
Targeted fever therapy with the need for a rapid positive effect.

Each ml contains:
Active substance:
Meloxicam 5 mg
Excipients:
Ethanol 96% (v/v) 159.74 mg

Target species:
Dogs and cats.

Indications for use, specifying the target species:
Dogs:
Alleviation of inflammatory response and pain associated with acute and chronic involvement of the musculoskeletal system.
Alleviation of postoperative pain and inflammation after orthopedic surgeries and soft tissue surgeries.
Cats:
Alleviation of postoperative pain after ovarian hysterectomy and after minor soft tissue surgeries.

Pack size:
1 x 10 ml