OTIMIX ear drops, suspension
Homepage News News in assortment OTIMIX ear drops, suspension
21.5.2015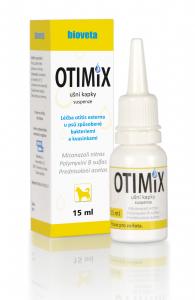 OTIMIX – FIRST-LINE CHOICE IN OTITIS EXTERNA TREATMENT
1 ml contains the following active substances
Miconazoli nitras 23 mg
Polymyxini B sulfas 5500 IU
Prednisoloni acetas 5 mg
...there's nothing like a sophisticated combination!
Guaranteed action against most common otitis externa pathogens
Synergic effect of miconazole and polymyxin minimizes the risk of relapse
Almost 100% effect on Malassezia pachydermatis
Polymyxin content reduces the potential for resistance
Excellent safety profile
Easy to apply, not irritant
Two package sizes for different breeds – 15 and 30 ml
Target animal species
Dogs.
Indications with specification for the target animal species
Treatment of otitis externa in dogs caused by bacteria and yeast sensitive to the active substances.
In particular, these are representatives of the groups below:
Gram positive bacteria
Staphylococcus spp. (particularly S. intermedius, S. pseudintermedius and S. aureus), including methicillin-resistant strains)
Streptococcus spp. – haemolytic strains
Gram negative bacteria
Pseudomonas aeruginosa, E. coli, Enterococcus spp.
Yeast
Malassezia pachydermatis.
The content of prednisolone corticosteroid adequately modulates the inflammatory reaction.
Use during pregnancy, lactation or laying period
The product can be used during pregnancy or lactation.
Shelf life
Shelf life of the veterinary medicinal product as packaged for sale: 2 years.
Special precautions for storage
Store at temperatures below 25 °C.
Nature and composition of immediate packaging
15-ml polyethylene vial in a paper box.