PENBITAL Eutha 400 mg/ml solution for injection
Homepage News News in assortment PENBITAL Eutha 400 mg/ml solution for injection
20.8.2021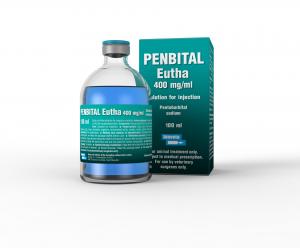 Solution for injection containing pentobarbital for painless and calm euthanasia of animals.
Active substance:
Pentobarbital sodium 400.0 mg (equivalent to 362.94 mg pentobarbital)
Excipients:
Benzyl alcohol 20.0 mg, patent blue 0.006 mg
Minimum amount for animal excitation.
Very rapid onset of deep anesthesia and subsequent cardiac and respiratory arrest.
Ideal for intravenous administration with several alternatives if needed.
Registered for a wide range of livestock, carnivores, small mammals, birds and reptiles.
Suitable for large and small animal practices (including exotic) or experimental facilities.
Supplied in a vial with a rubber stopper, volume 100 ml.