Bioveta in seminars focused on cow reproduction in Bulgaria
Homepage News What´s new? Bioveta in seminars focused on cow reproduction in Bulgaria
25.6.2019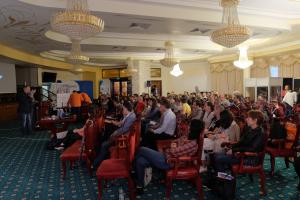 Bioveta has again participated in the veterinary seminars in Bulgaria dealing with the issue of reproduction in cows.
The Regional Manager for Bulgaria and Macedonia and the Product Manager for hormone products, MVDr. Josef Zajíc, Ph.D., has taken part in the seminar organized by the Bulgarian Union of Veterinary Surgeons on 4 May 2019. The seminar for veterinary practitioners was held in Sofia, and Bioveta representative was one of the two main speakers in this seminar. The topic of the paper, presented by Mr Zajíc in the Bulgarian, language, was: "Risk Factors when Managing Reproduction in Cows". In his paper, Mr Zajíc emphasized possibilities of utilization of the hormone medicinal products and other products produced by Bioveta and used in cow reproduction.
Topic of the paper was very positively evaluated by all present veterinarians and, based on the great interest of the veterinarians, the Bioveta representative was asked to publish his paper in the Bulgarian journal "Veterinarypractice2019".