Bioveta mission to the Netherlands
Homepage News What´s new? Bioveta mission to the Netherlands
3.3.2020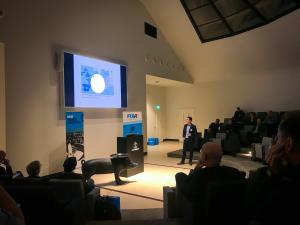 Bioveta presented its new pig vaccine at the Dutch conference "The Meat Next Generation".
At the beginning of February, the Regional Director of Bioveta, Mgr. Jiří Vojtěch, and the Product Managers for pigs and cattle, MVDr. Pavel Raška and MVDr. Dalibor Pavlíček, set off to the Netherlands for the conference "The Meat Next Generation", organized by a distributor of the Bioveta company. The conference was attended by approximately 70 veterinarians from the Netherlands and Belgium. During the conference, the Bioveta representative presented the latest vaccine in the portfolio for pigs – the BIOSUIS Salm vaccine. He did not forget to emphasize its benefits for increasing quality and harmlessness of pork, and thus safety for the consumer. The conference also included practical teaching of differential diagnosis of the pathogens causing lung infections in pigs.
The visit has again opened new horizons and business opportunities for the Bioveta company. It has also strengthened the relationship with our distributor and veterinary specialists from the pig farms in Benelux, who have been using our products for several years already.