Bioveta - Partner of the XII International Dairy Congress in Ukraine
Homepage News What´s new? Bioveta - Partner of the XII International Dairy Congress in Ukraine
26.3.2019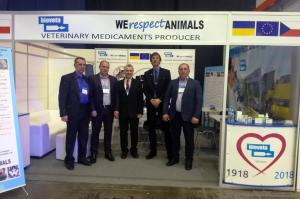 On 05.–06.03. 2019, the Bioveta Ukraine branch became an important partner of the largest dairy industry event in Ukraine and in the Eastern Europe.
The event was attended by some 1,500 experts from the dairy industry, including specialists, veterinarians, technologists, managers, industry experts, as well as government officials, representatives of embassies, international organizations, financial institutions, trading companies and the media.
MVDr. Pavel Raška, Product Manager of Bioveta, gave the lecture focused on the "Respiratory Syndrome of Cattle and Possibilities of Immunoprophylactics". The congress hall, crowded with the veterinary specialists in the field of cattle breeding, have listened with a great interest to the issue that is topical worldwide, especially in terms of possible preventive solutions to infectious diseases of young calves. The event culminated by the Veterinary Forum, the aim of which was to unify specialized veterinarians throughout Ukraine.
During both days of the Congress, the Bioveta Ukraine branch presented itself by its own stand, where its managers presented detailed information for the existing and new prospective customers about the Bioveta a. s. medicinal products available on the Ukrainian market as well as the expert advice concerning solution of various health problems in the cattle breeding sector.
See you next year again… "До побачення"