Bioveta invites you to EuroTier 2022
Homepage News Event and Exhibitions Bioveta invites you to EuroTier 2022
24.10.2022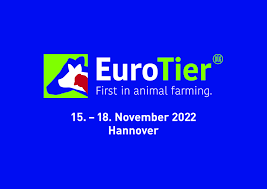 On November 15-18, this year's EuroTier – one of the world's most important animal farming fairs – will take place at the exhibition grounds in Hanover, Germany.
The program is very rich and includes, among others:
· lectures and panel discussions with experts in various areas of farm animals breeding, husbandry, and processing of their products
· commented presentations of breeding cattle, sheep and goats
· award ceremony in the areas of innovative products and contribution to animal welfare
· Young Farmers Day (17th November) – aimed at students of agricultural disciplines and young people starting their careers in animal farming and agriculture in general (international panel discussion, job forum, meeting points)
In addition, more than 1500 exhibitors from all over the world want to attract the visitors' attention with both proven and brand-new products. Visitors to the fair can meet them in 18 exhibition halls. We would very much like to point you to stand 21A31 in particular –that is the space where you will be able to meet our experts on products for farm animals; they will gladly advise you on optimal use of our products at your farm.
In addition, the parallel course of another trade fair – EnergyDecentral (focused on energy, especially the possibilities of local production and self-sufficiency) – is also interesting. We believe that many farmers may find interesting inspiration for their farms there.
We will be pleased to see you at stand 21A31!