Invitation to participate in the XXIII. INTERNATIONAL EXHIBITION OF ANIMAL NUTRITION AND VETERINARY MEDICINE
Homepage News Event and Exhibitions Invitation to participate in the XXIII. INTERNATIONAL EXHIBITION OF ANIMAL NUTRITION AND VETERINARY MEDICINE
8.1.2018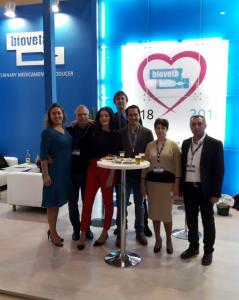 Invitation to participate in the XXIII. INTERNATIONAL EXHIBITION OF ANIMAL NUTRITION AND VETERINARY MEDICINE that will take place in Moscow from January 30 to February 1, 2018.
Bioveta a.s. Russian branch hereby cordially invites you to visit our booth in Pavilion A, No. A742.

This exhibition is one of the biggest international events of its kind where major topics will focus on agro-industrial issues. All vital information about our products will be received at our booth where you will also enjoy Czech cuisine, traditional Czech beer with simultaneous celebration of Bioveta's 100 year anniversary.

Looking forward seeing you at the Moscow Exhibition Centre (VDNKh), Moscow, Prospekt Mira, 119,