PRESTIGIOUS VETERINARY FAIR VET ME 2017 IN DUBAI
Homepage News Event and Exhibitions PRESTIGIOUS VETERINARY FAIR VET ME 2017 IN DUBAI
18.4.2017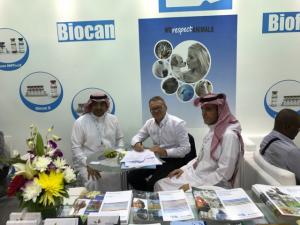 VET ME DUBAI that had taken place in Dubai from April 10-12, 2017 was successfully completed with participation of representatives from Bioveta a.s.
The veterinary pharmaceutical company Boveta a.s. has participated this prestigious fair that is organised under the patronage of His Royal Family of the United Arab Emirates.
Bioveta participates this fair annually with great success that was achieved this year as well. During this event bioveta has concluded a number of business contracts. Representatives of our company had great opportunity to meet with many business partners from the region thanks to which we could significantly increase export of products for small animals.
Ing. Libor Bittner, PhD, Managing Director and Chairman of the Boards of Directors signing the agreements