BioBos RCC suspension for injection
Homepage News News in assortment BioBos RCC suspension for injection
4.11.2022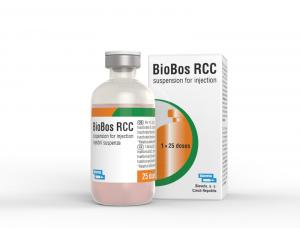 Inactivated vaccine against neonatal diarrhea of calves.
prevent neonatal calves diarrhea
composition:
Inactivated E. coli expressing F5 (K99) adhesin, strain O8:K35 RP ≥ 1*
Inactivated bovine rotavirus, serotype G6P1, strain TM-91 RP ≥ 1*
Inactivated bovine coronavirus, strain C-197 RP ≥ 1*
* Relative potency (RP): level of antibodies in sera of vaccinated guinea pigs as determined by ELISA in comparison with the reference serum obtained after vaccination of guinea pigs with a vaccine batch that has successfully passed the challenge test in the target animals.
indicated for use in pregnant heifers and cows for passive immunization of calves via colostrum
one shot also for pregnant heifers
vaccination scheme:
2 ml intramuscularly. A single injection should be given during each pregnancy between 12 and 3 weeks before the expected calving.
oil-free adjuvant
high safety and efficiency
simple preparation
without withdrawal periods
package: 2 ml, 10 ml, 50 ml, 100 ml