BIOCAN NOVEL RESPI nasal drops, lyophilizate and solvent for suspension for dogs
Homepage News News in assortment BIOCAN NOVEL RESPI nasal drops, lyophilizate and solvent for suspension for dogs
9.4.2020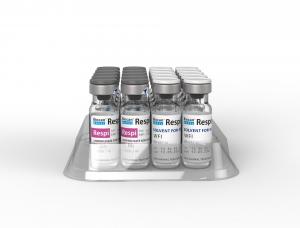 Reduces clinical signs and excretion of bacteria (in case of Bordetella bronchiseptica infection) and virus (in case of canine parainfluenza virus infection).
Active substances:
Live attenuated Bordetella bronchiseptica, 108.0–109.8 CFU
Live attenuated Canine parainfluenza type 2 virus, 103.5–105.8 CCID50
Supplied in boxes of 5×1 dose and 10×1 dose for intranasal application (not all pack sizes may be marketed)
active immunization of dogs from 3 weeks of age
dose volume only 0.5 ml, painless application
onset of immunity: 3 days (Bordetella bronchiseptica), resp. 7 days (canine parainfluenza virus) after primary vaccination
duration of immunity: 1 year.
This product has been shown safe in dogs from 8 weeks of age when given at the same time as vaccines of the Biocan Novel range containing live canine parvovirus, adenovirus, distemper virus, parainfluenza virus as well as inactivated Leptospira and rabies virus.
For more information read the package leaflet.