BIOSUIS PRRS live
Homepage News News in assortment BIOSUIS PRRS live
14.10.2020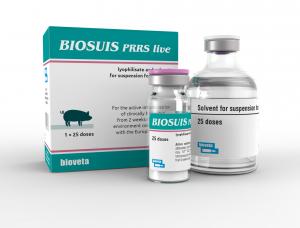 For active immunization of clinically healthy pigs from 2 weeks of age in the environment contaminated with the European type of PRRS virus.
Lyophilisate and solvent for suspension for injection for pigs
1 x 5 doses, 5 x 5 doses, 1 x 25 doses
Live attenuated vaccine for active immunization against the European type of virus in:piglets from 2 weeks of age against respiratory manifestations of occurred lung lesions

sows and gilts to reduce viremia and transplacental infections
Onset of immunity up to the protective level - within 4 weeks after vaccination.

Duration of immunity:

Fattening pigs - duration of immunity for 6 months. Vaccination of two-week-old piglets has been shown to significantly reduce occurrence of lung lesions after the challenge test performed 180 days after vaccination
Sows and gilts - duration of immunity for 16 weeks. Minimizes negative impacts on reproductive performance

Absolutely safe profile of use even in lactating sows. It does not reduce milk production, when used during lactation
No withdrawal periods
Vaccine composition:
PRRS virus, live attenuated, strain BIO 60 - EU (min. 103,4 TCID50–max. 106,8 TCID50) + solvent
Vaccination schedule:
Low vaccination dose – 2 ml
Vaccination intramuscularly behind the ear, leading to in excellent resorption
A single dose is given to pigs from 2 weeks of age
Pigs for fattening: one vaccine dose is sufficient to protect them until slaughter
Breeding pigs: (re)vaccination is recommended in gilts 4 weeks before mating. To achieve a uniform level of protection, revaccination at regular intervals is recommended, either before each subsequent pregnancy or for the whole period of keeping every 16 weeks
New, PRRS virus-free animals brought to the farm (e.g. gilts from PRRS-negative farms) should be vaccinated before conception
You can read more about this medicinal product in the package leaflet.