BIOSUIS Respi E, injectable emulsion for pigs
Homepage News News in assortment BIOSUIS Respi E, injectable emulsion for pigs
9.3.2015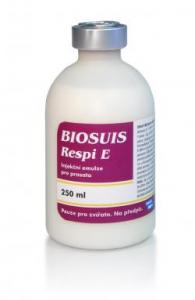 For active and passive immunization of piglets in order to prevent infection of Robins, and Actinobacillus pleuropneumoniae infection reduction Haemophilus parasuis (Glässerovy disease) and a reduction in clinical symptoms caused by these pathogens
Inactivated bacterial vaccine with cellular antigens
Actinobacillus pleuropneumoniae containing newly serotype 2.9, and 11 and Toxoids APX APX and II and APX III,
Haemophilus parasuis (serovary 1, 5, 13) , Erysipelothrix rhusiopathiae (3 strains – type 2, 1 strain – type 1)
It contains modern oil adjuvant supporting immunogenic properties
It raises the production of specific antibodies that help protect against the consequences of off-road Actinobacillus infections and Haemophilus parasuis pleuropneumonie (Glässerova disease) in breeding pigs
Vaccine protects at the same time within a single application as well as against infection of Robins in pigs
When the recommended vaccination schedule for slaughter pigs protected throughout the growing periodvaccination of pregnant gilts and sows is a solution for reducing infection pressure on the affected farms
piglets are protected for colostral and lactogenic nutrition
Vaccination of piglets:
from the age of 6 weeks
vaccine dose is 1 ml i.m.
booster for three weeks at the same dose
Vaccination of gilts and sows:
vaccination 6-5 weeks before delivery
vaccine dose is 2 ml i.m.
booster for 2-3 weeks at the same dose, but no later than two weeks before the birth
further revaccination is always 2-3 weeks before each subsequent farrowing
Onset complete immunity to all categories is three weeks after revaccination in duration to 6 months.
Package:
100 ml, 250 ml plastic vials