BioSuis Salm Emulsion for injections for pigs
Homepage News News in assortment BioSuis Salm Emulsion for injections for pigs
21.8.2019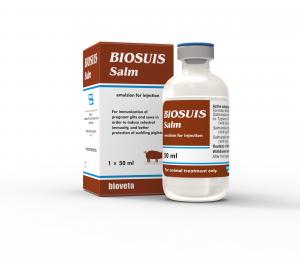 protection of pigs and humans from infection by zoonotic Salmonella strains
Vaccine composition (salmonella serovars):
Salmonella enterica subsp. enterica sv. Typhimurium
Salmonella enterica subsp. enterica sv. Derby
Salmonella enterica subsp. enterica sv. Infantis
Compare yourselves with European leaders and make your pork breeding unique
Regular and systematic vaccination of gilts and sows protects health of pigmeat consumers from alimentary infection by zoonotic Salmonella strains.
BIOSUIS Salm is the vaccine:
belonging among the unbeatable medicinal products in the said market sector in Europe
produced in accordance with the latest trends of producers of immunological veterinary medicinal products
intended for passive immunization of piglets and active immunization of pregnant gilts and sows
reducing colonization of intestines and lymph nodes by zoonotic Salmonella serovars
increasing health protection of consumers and staff throughout the meat production process
with a safe adjuvant - Montanide ISA 206 VG
with a strong immune response
with a single vaccine dose of 1 ml only
with zero withdrawal period
Systematic immunoprophylaxis by BIOSUIS Salm vaccine in pig breeding:
protects health of humans - consumers
increases confidence of pork meat consumers
maintains the level of consumer demand
increases competitiveness of pork meat producers
improves pig breeding profitability
allows a perfect differentiation of vaccinated and infected animals, using a unique patented ELISA test
If you have any questions, please contact MVDr. Pavel Raška - Product Manager for pigs
Available from veterinary medicinal product distributors.
For more information read the package leaflet.