CANIVERM tablets - antiparasitic against round and flat worms
Homepage News News in assortment CANIVERM tablets - antiparasitic against round and flat worms
17.6.2021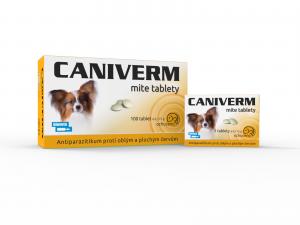 Thanks to the new seasoning with sardine flavor, the product is much more attractive for dogs and cats.

Active substances:
Fenbendazolum – 150 mg (forte) / 37,5 mg (mite)
Pyranteli embonas – 144 mg (forte) / 36 mg (mite)
Praziquantelum – 50 mg (forte) / 12,5 mg (mite)
Excellent effectiveness against roundworms and tapeworms in dogs and cats

Suitable as an echinococcosis treatment for international travel (e.g. Ireland, Finland, United Kingdom, etc.)

Two variants (forte and mite) facilitate dosing for dogs and cats from a weight of 0.5 kg and from the 3rd week of age

Can also be used in pregnancy and lactation
Pack sizes of 2, 6 and 100 tablets (both variants).