COFFEINUM BIOVETA 125 mg/ml injection solution
Homepage News News in assortment COFFEINUM BIOVETA 125 mg/ml injection solution
9.3.2015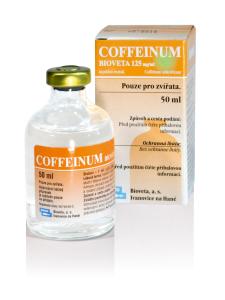 The product containing the central analeptic caffeine, which is newly present in the market. Intended for dogs, cats and also sheep, pigs, cattle and horses. Safe support of heart action. Shortening of waking up after general anaesthesia.
Caffeine is a stimulant of the central nervous system and a mild diuretic.
Caffeine is appreciated for its positive effect on the heart action, which is related with its function as an antagonist of phosphodiesterase enzyme. This enzyme degrades cyclic adenosin monophosphate, which is necessary for correct function of the heart muscle.
Caffeine increases the level of intracellular calcium, which improves contractility and solidity of muscle fibres. Since its application is also followed by vasodilatation of some arterioles (mainly coronary and renal arterioles) and periphery vessels, there is no greater effect on blood pressure. Caffeine reduces fatigue and increases alertness and vigilance.
Caffeine passes easily to the central nervous system, to saliva and also to mother's milk, passes through placental barrier.
In adult animals, it is extensively and almost completely metabolised by demethylation and oxidation in the liver. Degradation products are excreted in urine in a form of various inactive metabolites. Liver transformation in the young ones is not sufficiently mature however, thus caffeine is not fully metabolised.
Elimination half life has an extensive species- and individual variability and usually ranges between three to six hours.
COFFEINUM BIOVETA 125 mg/ml injection solution
STATEMENT OF THE ACTIVE AND OTHER SUBSTANCES
1 ml of clear colourless or slightly yellow solution contains:
Active ingredient: Coffeinum anhydricum 125 mg
Excipients: Sodium benzoate 125 mg
INDICATIONS
Acute general physical weakness, collapse or shock as a sign of sedation or paralysis of the
central nervous system (after exhausting exertion, poisoning and severe diseases), surgical coma, heart insufficiency (mainly bradycardic type) and other cases of injury or fatigue, depressive conditions, to shorten waking up after general anaesthesia.
CONTRAINDICATIONS
Arterial hypertension, ischemic heart disease, hyperthyroidism, more severe liver function disorder.
ADVERSE REACTIONS
Insomnia, restlessness and excitement only in higher doses.
TARGET ANIMAL SPECIES
Dogs, cats, sheep, cattle, pigs, sheep and goats.
DOSAGE FOR EACH SPECIES, ROUTE AND METHOD OF ADMINISTRATION
Horse 10 - 20 ml SC, IM, 5 - 10 ml IV, cattle 20 - 40 ml SC, IM, 10 - 20 ml IV, pig, sheep, goat 2 - 8 ml SC, IM 1 - 4 ml IV, dog 0.5 - 2 ml SC, IM, 0.25 - 1 ml IM, cat 0.5 ml SC, IM, 0.25 ml IV. It is possible to administer the same doses as subcutaneous or one and a half higher doses.
It is administered subcutaneously (under skin), intramuscularly (to a muscle) or intravenously (to a vein).
The onset of the effect after SC and IM administration is within 15 – 30 minutes and lasts for several hours.
ADVICE ON CORRECT ADMINISTRATION
Higher doses may result in restlessness, excitement, tremor, tachycardia and arrhythmia.
WITHDRAWAL PERIOD
No withdrawal periods.
SPECIAL STORAGE PRECAUTIONS
Keep out of the reach of children.
Keep at a temperature bellow 25 oC. Protect from light and freeze.
Shelf life after the first opening is 28 days.
OTHER INFORMATION
Interactions: Caffeine potentiates analgesic (pain relief) effect of analgesics – antipyretics (drugs against increased temperature).
For animal treatment only.
This veterinary medical product is available only on prescription.
Packaging: glass injection vial with rubber stopper containing 50 ml.