HYALURONAN BIOVETA 10 mg/ml solution for injection
Homepage News News in assortment HYALURONAN BIOVETA 10 mg/ml solution for injection
9.3.2015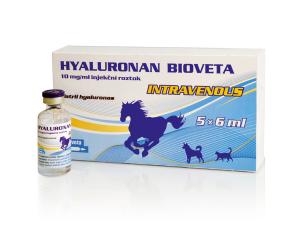 Injectable solution containing hyaluronic acid. Target species: horses, dogs, cats
hyaluronan injection for use in horses, dogs and cats in orthopedics and ophthalmology
intravenous - bypassing the gastrointestinal tract (GIT), which may cause degradation of the active substance
suitable for a "mere" instillation into the conjunctival sac
composition and efficiency of fully comparable with the competition
packaging: 5 x 6 ml
1 ml of the injection solution contains:
Active ingredient: Sodium hyaluronate 10 mg
Clear, colourless fluid.
INDICATION(S)
Orthopaedic:
Acute and chronic osteoarthritis, polyosteoarthritis - Subacute and chronic arthritis
Acute and chronic tendovaginitis, tendinoses and bursitis
Osteochondrosed
Ophthalmologic:
Acute and chronic keratitis
Conjunctivitis, keratoconjunctivitis
Dry keratoconjunctivitis
Corneal ulcer
Corneal injury
CONTRAINDICATIONS
None.
TARGET SPECIES
Horses, dogs, cats
DOSAGE FOR EACH SPECIES, ROUTE(S) AND METHOD OF ADMINISTRATION
Method of administration:
1) Intravenous (subcutaneous) administration
a) Horses:
Dose: usually 6 ml (60 mg).
Number of doses: 3-7 doses, optimum 5.
Interval between doses: 3-9 days, optimum 7.
b) Dogs, cats:
Dose: sightly lower, usually 3-5 ml.
Number of doses: 3 - 7 doses, optimum 5.
Interval between doses: 3-9 days, optimum 7.
2) Topical administration to the conjunctival sac:
Dose/number of doses: 1 - 2 drops to the eye (conjunctival sac) every 2 - 12 hours.
Period of administration: 5 - 60 days, possibly permanently (acute inflammation 5 - 7 days, chronic inflammation until improvement/cure).
ADVICE ON CORRECT ADMINISTRATION
Aseptic intravenous administration should be considered. The product is recommended in case of severe impairment of the eye, either with antibiotics or corticoids or it should be administered alternatively with these.
WITHDRAWAL PERIOD
Horses: meat and milk: No withdrawal periods.
SPECIAL STORAGE PRECAUTIONS
Keep out of the reach of children. Keep at a temperature below 25°C.
Protect from light. Protect from frost.
The product must be used immediately after first opening of the immediate packaging.
SPECIAL WARNING(S)
May be used during pregnancy and lactation.
Interactions with other medicinal products and other forms of interaction
Do not administer simultaneously with kationic antimicrobial substances (erythromycin, amoxicillin, cefchinom), which cause precipitation.
Other groups of substances: corticoids, non-steroidal anti-inflammatory drugs, vitamins, minerals and ophthalmological products are fully compatible with hyaluronan.
Compatibility studies are not available and therefore this veterinary medicinal product must not be mixed with any other veterinary medicinal products.
PACKAGE:
5 x 6 ml