INTRAMAR LC intramammary suspension
Homepage News News in assortment INTRAMAR LC intramammary suspension
21.5.2015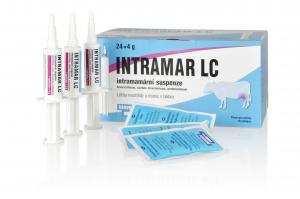 Product for intramammary treatment of mastitis in lactating dairy cows with a broad spectrum of efficacy against the most common and most serious causal agents of infectious mastitis in cattle.
Indications
Treatment of clinical cases of mastitis in lactating dairy cows caused by Staphylococcus spp. (including beta-lactamase producing strains), Streptococcus spp. (in particular S. agalactiae, S. dysgalactiae, S. uberis) and Escherichia coli (including strains producing some beta-lactamases)
One applicator (4 g) contains:
Amoxicillinum (ut amoxicillinum trihydricum) 200.00 mg
Acidum clavulanicum (ut kalii clavulanas) 50.00 mg
Prednisolonum 10.00 mg
Amounts to be administered and method of administration
Following complete milking of the affected quarter of the mammary gland and teat tip disinfection, administer the contents of one applicator into the affected quarter. Administer 3 doses in total into each affected quarter at 12-hour intervals.
Infections caused by Staphylococcus aureus may require a longer antibacterial therapy. Overall treatment duration should therefore always be considered by the veterinarian, and should be long enough to resolve the intramammary infection completely.
Each applicator is for single use only.
Withdrawal periods:
Milk: 84 hours
Meat: 7 days
Package:
Pack of four 4.5-ml intramammary applicators sealed in PE foil.
Shipping package of the product is 24 applicators (6 x 4) in a carton box with a package leaflet.