LECIRELIN BIOVETA 0.025 mg/ml solution for injection
Homepage News News in assortment LECIRELIN BIOVETA 0.025 mg/ml solution for injection
27.8.2015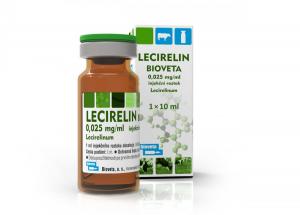 Lecirelin is a synthetic GnRH (gonadotropin releasing hormone) superanalogue. In contrast to the physiological hormone, lecirelin has a higher biological activity and a prolonged effect. Lecirelin influences the sexual cycle by acting on the growth and maturation of follicles with subsequent onset of estrus.
For intramuscular administration in dose 2 or 4 ml pro toto depanding on the indications - estrus synchronization, improving the conception rate after insemination, treatment of irregular cycles, treatment of ovarian cysts.
Zero withdrawal period.
Comfortable package 1 x 10 ml, available in one dose packaging 10 x 2 ml.
More here.