MELOXICAM Bioveta 1.5 mg/ml oral suspension for dogs
Homepage News News in assortment MELOXICAM Bioveta 1.5 mg/ml oral suspension for dogs
10.4.2019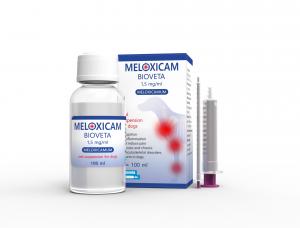 The form of administration is particularly suitable to relieve the chronic orthopedic pain, inflammation and fever in cases of need for repeated administration.
For long-term therapy in dogs in home care.
Comfortable and easy dosing with the included applicator.
Three pack sizes for the correct length of therapy depending on the patient's weight.

Each ml contains:
Active substance:
Meloxicam 1.5 mg
Excipients:
Sodium benzoate 5 mg

Target species:
Dogs.

Indications for use, specifying the target species
Alleviation of inflammation and pain in both acute and chronic musculoskeletal disorders in dogs.

DOSAGE FOR EACH SPECIES, ROUTE AND METHOD OF ADMINISTRATION:
Oral administration, in feed or directly into the animal's mouth.
Shake well before use.

Pack size:
10, 100 ml