SEDAN 10 mg/ml inj. sol.
Homepage News News in assortment SEDAN 10 mg/ml inj. sol.
31.3.2020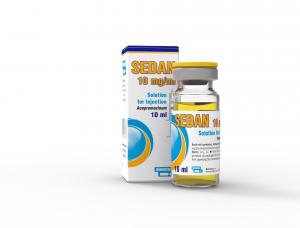 Suppresses the central nervous system with related action on the autonomous system, has antiemetic, hypothermic, hypotensive and antispasmodic properties and potentiates the effect of barbiturate anaesthesia.
Active substance
Acepromazinum 10 mg/ml (jako acepromazini maleas 13,55 mg)
Yellow-orange injection solution in 1×10 ml and 1×50 ml vials
anaesthesia premedication
tranquilisation to supress temperament animals, which is not linked with hypnotic, narcotic or deep sedative effect; e. g. to facilitate transport of animals
sedation as an addition to or a replacement of physical restraint during dental treatment, farriery procedures, handling etc.
intramuscular or slow intravenous application
For more information read the package leaflet.