Bioveta among the Best Czech Companies
Homepage News What´s new? Bioveta among the Best Czech Companies
11.12.2018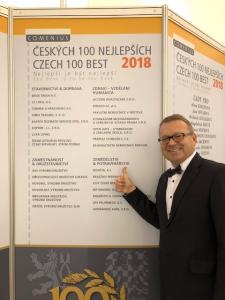 At the first Advent weekend one-hundred-year-old Bioveta became one of the best companies of the Czech Republic.
The Comenius company has been awarding best companies of the Czech Republic since 1996. The awards are based on the Czech 100 Best contest organized in cooperation with the Czech Chamber of Commerce. Bioveta, a. s. has become one of the best Czech companies in the Agriculture and Food Industry category. The programme included the "Key Factors of Success" international conference. During the gala evening awards were handed out and the event ended with a big reception which gave the guests great culinary delight.
We are honoured to rank among the best Czech companies and we will work hard to continue to grow and achieve another success!