Bioveta Celebrated the 100th Anniversary of Foundation with its Foreign Partners
Homepage News What´s new? Bioveta Celebrated the 100th Anniversary of Foundation with its Foreign Partners
26.11.2018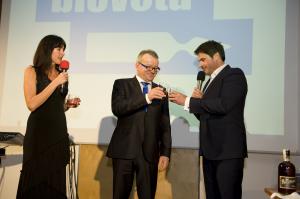 On 8 November 2018 Bioveta, a. s. celebrated the 100th anniversary of its foundation with its foreign partners who came from all over the world.
The celebration was held at Brno Holiday Inn where Bioveta had the honour to welcome its partners from all over the world. The gala evening started with the Bioveta Song and a new video about the company. Ing. Libor Bittner, CSc., Director of Bioveta, presented the product of the century – Lysvulpen, a vaccine against rabies, which made the largest shipment of the last year. The Director also introduced a new vaccine Rabadrop, a new generation of extremely safe vaccines against fox rabies. As part of the gala evening certificates were awarded to distributors for long-term cooperation with Bioveta.
Two musical performances were given during the evening, namely by the singer Jitka Boho and Karel Gott Revival Band. The guests could enjoy not only listening but also visual experiences as a commented fashion show of Charme evening clothes was organized.
We are honoured that our partners undertook long journeys to be able to celebrate together a highly successful century and we hope that the next century will be even more successful.