BIOVETA IN MVC FAIR: CEREALS – MIXED FEED – VETERINARY MOSCOW 2019
Homepage News What´s new? BIOVETA IN MVC FAIR: CEREALS – MIXED FEED – VETERINARY MOSCOW 2019
18.2.2019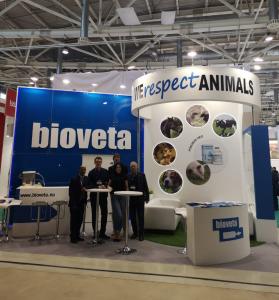 From 29 to 31 January 2019, the company Bioveta, a. s., presented itself in the largest fair for agricultural production, breeding and veterinary medicinal products in the Russian Federation.
This is an analogy of the fair organized traditionally in the Czech Republic, at the Brno Exhibition Centre under the name "Animal Tech" (Techagro), but in a much more wider range corresponding to the difference in the area of RF, the number of inhabitants and the extent of agricultural production. This year's event was attended by 440 companies from 28 countries all over the world and 41 regions of the Russian Federation. The exhibition area in the halls this year exceeded 24,500 m2.
Bioveta, a. s. presented itself for the firth year already by its own exhibition area, and its stand once again enjoyed great interest in veterinarians, breeders and distribution companies not only from Russia, but also from other countries of the former Soviet Union, Bulgaria, China or the Middle East. The visitors were interested mainly in medicinal products for pigs, cattle and poultry with focus on a wide portfolio of vaccines, nowadays under the process of certification in Russia. Besides the stylish design and cosy atmosphere, visitors of our stand also appreciated highly the possibility of tasting the world-renowned brand of the Czech brewing industry - the "Pilsner Urquell" lager, or the traditional three-year Jelínek "Slivovice". In the friendly atmosphere we have thus managed to strengthen the already existing business ties in this market and to establish new contacts with important players in the field of livestock breeding and with their veterinary specialists.
So, next year " До свидания Москва"!