Bioveta lectured at the University in Samara
Homepage News What´s new? Bioveta lectured at the University in Samara
27.6.2019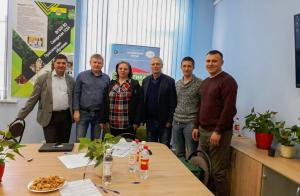 At the request of the organizers from the Russian Samara, the company Genoservis Russia, MVDr. Josef Zajíc, Ph.D. has taken part in the seminar organized by this company as the lecturer.
The seminar was held under the auspices of the Dean of the Faculty of Biotechnology and Veterinary Medicine, Professor Zajcev, in the premises of the Samara State Agricultural University. Bioveta representative was the main lecturer in this seminar, intended for veterinarians, insemination technicians and livestock specialists. Topics of the lectures held by MVDr. Zajíc in the Russian language were: "Pregnancy Diagnosis using USG", "Artificial Cow Insemination In Controlled Reproduction" and "Risk Factors when Managing Reproduction in Cows ".
Participation of the Bioveta representative in the seminar was very positively evaluated by the management of the Faculty and the University in Samara. The University officials appreciated contribution of Bioveta in assessing the issue of dairy cow farming in the Samara region. Particularly positive was the fact that the Bioveta specialists, in addition to the theoretical lectures, work with the local veterinary specialists directly on the farms, where they familiarize the farmers on the spot with the issue of dairy cow reproduction.