Bioveta took part in Agribusiness in Turkey meeting
Homepage News What´s new? Bioveta took part in Agribusiness in Turkey meeting
12.7.2019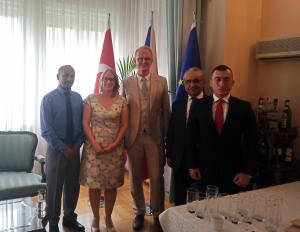 Last month, we were happy to be part of a meeting organized by the Embassy of the Czech Republic in Ankara. The meeting put together representatives of Czech companies in Turkey with the representatives of The Cattle Breeds Association of Turkey and others.
The event, which took place on 18th June 2019 under the name "Agribusiness in Turkey" in Ankara, Turkey, was accompanied by presentations of individual participants. Bioveta, as well as our Turkish business partner Interhas, was represented by Product Manager D.V.M. Wuhib Ayele, PhD. (the first on the left), Country Manager for Turkey Ms. Lenka Kachlíková, Head of Commercial Service and Economic Department of the Embassy of the Czech Republic Pavel Daněk, CEO of Interhas D.V.M. Tamercan Morkoç and the COO of Interhas M.D. Ismet Morkoç.
Thank you for the invitation and we are looking forward to the next year event.