Bioveta was a partner of a conference in Poland
Homepage News What´s new? Bioveta was a partner of a conference in Poland
18.10.2020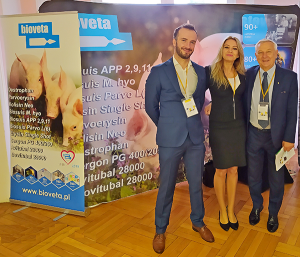 On 9 October, the Pawlowice chateau near Leszno hosted approximately 200 veterinary specialists dealing with the health of pigs, prevention and treatment of pig diseases on the occasion of the 10th year of the conference entitled ECHOES OF THE CONGRESS.
The topics of lectures concerned the ASF epizootic situation in Poland, Europe and worldwide, the effectiveness of vaccination of pigs and the stimulation of immunity in pigs during gradual reduction of antibiotic use.
Bioveta with its display was traditionally among the leading exhibitors and sponsors of the conference. Our representatives discussed preventive vaccination programmes on pig farms with participants. It was also an excellent opportunity for us to introduce a novelty in Bioveta's product portfolio in Poland – the vaccine Biosuis Respi E intended for active and passive immunisation of pigs against swine erysipelas, actinobacillus pleuropneumonia and Glasser's disease and to reduce clinical signs caused by these pathogens.
In our stand we also welcomed Professor Zygmunt Pejsak, the patron of the conference, the opinion leader of this branch and the author of a number of professional publications, with whom we talked about the high efficacy of Bioveta's products. Our teammate, DVM Michał Zimnicki, a specialist in swine diseases, presented Bioveta's products to the online conference participants in front of the camera.
We hope that the cooperation with the conference organisers in Pawlowice will continue successfully next year.