EuroTier 2018
Homepage News What´s new? EuroTier 2018
1.12.2018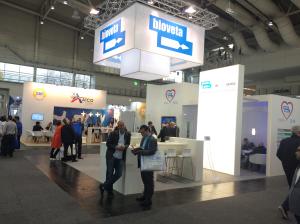 Another year of EuroTier trade fair for animal products is over and we present you with a brief summary.
The trade fair for animal products EuroTier 2018 took place from 13 – 16 November 2018 in Hannover, Germany. More than two thousands exhibitors presented their innovations in the areas of breeding cattle, pigs, poultry, goats and sheep and also aquiculture. Besides seeing exhibitions, visitors could also attend accompanying programme offering many opportunities to obtain and share professional information.
Bioveta was present at the trade fair and it was possible to find its stand B40 in Hall 2. We presented our product portfolio which attracted many visitors. We look forward to the next year of this trade fair to be held from 17 – 20 November 2020.