National congress of pig breeding specialists in Kiev
Homepage News What´s new? National congress of pig breeding specialists in Kiev
14.6.2021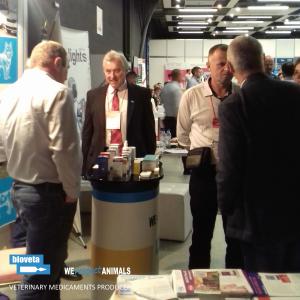 Bioveta Ukraine was the main sponsor of the national congress of pig breeding specialists "Pribylnoe svinarstvo", which took place on June 8, 2021 in Ukraine in the city of Brovary near Kiev.
After almost two years, it was the first meeting of professionals dealing with this issue. The congress had two sections, breeding and veterinary. Bioveta Ukraine had its station at the veterinary section, which was intensively visited not only by veterinarians, but also by zootechnics or farm directors.

In the main block of lectures on behalf of our company performed MVDr. Josef Zajíc with a lecture on "Possibilities of influencing sexual functions in sows, diagnosis of pregnancy and diseases of the genital tract of sows using ultrasound". Speech given by our Dr. Zajic at the end of the lecture program, has aroused a lively debate on the topic at our station. We hope that this hard-tested agricultural sector will start to rise again in Ukraine and will be competitive with large imports of pork from abroad. Bioveta Ukraine is ready to contribute with its products and services.