Ketoprofen Bioveta 100mg/ml
Homepage News News in assortment Ketoprofen Bioveta 100mg/ml
14.10.2020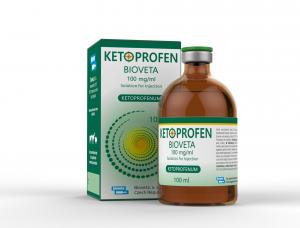 Medicinal product with antiphlogistic, analgesic and antipyretic effects.
Ketoprofen solution for injections
intended for cattle, pigs and horses
treatment of inflammatory processes (respiratory infections, mastitis, arthritis, MMA syndrome, lameness of traumatic origin, arthrosis, arthritis, osteitis, podotrochlosis, tendinitis, bursitis, laminitis, myositis, inflammations after surgery
symptomatic treatment of fever, postpartum paresis, lameness, etc.
packaging: 100 ml
Other important features of the medicinal product
the medicinal product can be used during pregnancy and lactation in sows and cows
after intramuscular administration, the medicinal product absorbs rapidly from the injection site and reaches peaks of concentration in serum within 30 to 40 minutes
You can read more about this medicinal product in the package leaflet.